PULSE ELECTRO-MAGNETIC FIELD THERAPY (ONDAMED)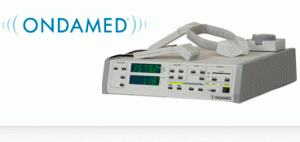 When there is a departure from a healthy synchronous vibration, these parts display a lower energy or chaotic asynchronous vibrations. Just as micro-magnetic fields exposed to induction impulses produce electron flow ONDAMED impulses convert static and blocked non-regulating areas to dynamic functionality.
Mechanism of action:
• Adds energy through natural resonance effects
• Raises the electrical potential of tissues that are in a weakened state
• Restores normal functions
• Promotes relaxation as evidenced by changes in brain waves
Ondamed provides an effective painless and non-invasive complementary therapy.  Ondamed is based in the principle of electro-magnetic induction.  The device produces a highly focused pulsed electromagnetic field that penetrates deep into a targeted region of the body to painlessly stimulated tissues and "jump start" cellular activities.  The Ondamed system complements other treatments, such as pharmaceuticals, homeopathic remedies, nutritional supplements, and other therapeutic modalities; patients respond faster and the effects are longer lasting. 
Dr. Llanos is a Diplomate of the American Board of Medical Hypnosis, a Founding Diplomate of the American Board of Holistic Medicine and a board certified by the American Board of Anti-Aging and Regenerative Medicine. Dr. Llanos and our Esthetician will customize a service plan for you.
To schedule a FREE consultation, please call 504-834-1050.
For more information on ONDAMED visit: http://www.ondamed.net/