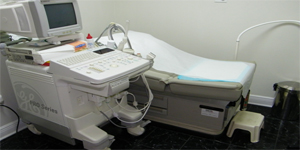 Ultrasound
The ultrasound service is a procedure that uses high-frequency sound waves to view and evaluate internal organs.  This is a non-invasive procedure that is covered by most health insurance plans. 
_________________________________________________
Bone Density
The bone density service is used to measure the density of bones to detect Osteopenia and Osteoporosis.  In minutes, the bone density service will relay important information that may assist to prevent hip and other fractures.  To schedule an Ultrasound or Bone Density appointment, please call (504) 834-1050.