Healthy Living is the Foundation of Skin Rejuvenation
October 1, 2011
A healthy lifestyle is the key to keeping your skin healthy and glowing despite the rigors of aging. Taking sufficient care of your skin is an important part of healthy living because skin is one of the most important parts of your body. You simply need to stick to the basics of good skin care to delay the signs of aging and protect yourself against any skin troubles.
Use Sun Protection
Protecting your skin against sun damage is the most vital part of your skin care. No amount of cosmetic treatments will be enough if you do not care about sun exposure. UV radiation exposure can cause problems ranging from dry skin, wrinkles, age spots, and freckles to serious diseases such as skin cancers.
UV rays are the strongest between 10 am and 4 pm, so if you are going to be outdoors during this period, wear protective clothing. Use tightly woven long pants and long-sleeved shirts and use a wide-brimmed hat wherever possible. Apply a broad spectrum sunscreen (30 SPF) recommended by your physician.
Cut Down (or Quit!) Smoking
Smoking is one of the worst enemies of your skin. It leads to an early onset of wrinkles and takes away the natural glow from your skin. Regular smoking will constrict the tiny blood vessels in the topmost layers of your skin, which will obstruct free circulation of the blood.
This will deplete your skin of vital nutrients and oxygen. Smoking over a long period of time will eventually damage the natural collagen and elastin fibers that provide structure and elasticity to your skin. Therefore, you will have to choose between smoking and beautiful skin. You are unlikely to get both.
Skin Maintenance
Your skin needs frequent and thorough cleansing. Consult your physician for the most appropriate cleanser and moisturizer for your skin type. However, take care that the cleansing is performed softly and gently. Avoid strong soaps and use mild cleansers instead.
Moisturize dry skin regularly. If you have an acne breakout, get professional acne care rather than using over the counter solutions without medical advice. Try to limit your bath hours because long showers and very hot water can remove essential oils from your skin. Use warm water instead of steam or hot water.
Eat Healthy and Manage Stress
Eat a healthy and balanced diet with plenty of fresh fruit, veggies, whole grains, and lean meats. Drink plenty of fluids to keep your skin naturally hydrated. Do not starve yourself, eat sufficiently but avoid oily and fried foods, and limit your consumption of fats.
A stressful lifestyle can lead to a sensitive skin, acne, frown lines, and trigger other skin problems. A healthy state of mind is the pre-requisite for a healthy body and healthy skin. Lead a moderate lifestyle, satisfy your body's sleep demands, and find time for physical fitness and body care. This is the real secret of anti-aging.
_________________________________________________
Did you Know…?
September 18, 2011
There are many common uses for Botox® and filler treatments. Aesthetic treatments such as Botox® have been made popular for their success in eliminating wrinkles and helping reverse the signs of aging. Wrinkles and lines make the skin look dull, aged, and unhealthy. It is a quick injection that relaxes the muscles, minimizing the appearance of these unsightly wrinkles and lines.
Botox® also can be used to open the eyes. This 'doe like' look is an attractive and young looking feature for women to have. Skilled doctors can even give these injections to re-shape the eyes, giving them the desired almond-like character. They can also be used to give great eyebrow lifts where sun and aging has taken its toll.
Botox® injections can also treat unattractive features on the lower part of the face. Smile lines, frown lines, and the lips can all be treated by Botox® to remove creases and wrinkles that make you looked aged and unhealthy.
It will take about 7 days for the Botox® product to take effect, but the results will last for about 3 months. Dysport®, a similar product, takes effect after only a day or two.Dermal fillers, such as Juvederm®, are great options for cheek enhancements and act as a mini face lift. They can be used to fill in the creases of the nasio-labial fold and lip areas.
Both of these treatments are very popular and are used by thousands of men and women.
_________________________________________________
GLOWING SKIN FROM THE INSIDE OUT
September 1, 2011
The skincare aisles at grocery stores and pharmacies seem to be growing endlessly. Men and women alike layer on the lotions and facial creams when they wake-up, during their lunch breaks, and before bed. Instead of loading up on at-home remedies, try an inside-out approach to better skincare and to get the most out of your facial aesthetic treatments. 
A person's diet can greatly affect their skin condition. Some new additions to your diet can rid your skin of acne, dullness, and dryness and take better care of your skin after aesthetic treatments. Identify your biggest skin flaw and cook up a delicious future for your pores. Disclaimer: this list does involve highly nutritious and vitamin packed foods. Do not be afraid to pile your plate high. There are plenty of practical and aesthetic reasons to load up on these dishes.
A to Z for Acne
Adult and teens alike fall victim to acne. Vitamin A can help you put an end to those embarrassing blemishes. Vitamin A is an antioxidant that thins the outer layer of the skin that is known for producing dead cells. It also dries up the gross oil your skin glands produce that, when mixed with those dead skin cells, clogs your pores.
Another acne fix is the mineral, Zinc. Zinc helps control the skin's oil production. Simply, less oil = less breakouts.

Key foods for Vitamin A
: Sweet potatoes, leafy greens, bright red, yellow, and orange produce such as carrots, cantaloupe red bell peppers, red chile peppers, and asparagus.
Key foods for Zinc: raw oysters, canned blue crab, turkey, beef and pork sirloin
Dry, Dull and Boring
For those of you that have not yet completely drowned yourselves in water trying to add a glow to your skin, pay attention. Keep drinking lots of water, but don't stop there. Other nutrients, like Niacin, helps strengthen the skin's barrier by hydrating the cells and acting as an anti-inflammatory. Biotin, another B vitamin like Niacin, has shown positive results in hair and nail growth and may also help with skin-cell turnover, keeping your skin new and fresh.
Key foods for Niacin and Biotin: Chicken, canned light tuna, pork chops, beef sirloin, eggs, avocado, salmon.
_________________________________________________
THE SUN'S EFFECTS ON OUR SKIN
July 1, 2011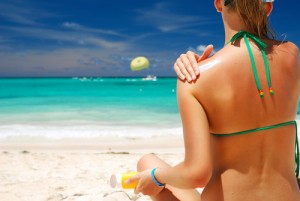 As the ozone layer continues to deplete, natural protection from the sun's harmful UV rays that we can receive through our atmosphere continues to decrease as well. This leaves our bodies and skin extremely vulnerable to sun damage. As we expose our skin everyday to the powerful sun without proper protection, we continue to harm ourselves.
The visible effects of sun exposure don't become apparent until we are much older. And usually by this time, prevention is nonsensical because we have already damaged our skin. Besides the obvious and most serious effect of UV exposure and sunburns, skin cancer, there are other aesthetic effects of the sun's rays.
Although the skin uses sunlight to help manufacture vitamin D, we must be aware of overexposing. By overexposing your skin cells to the sun, you damage your skin layers, which over time can make your skin become thick, wrinkled, and leathery. This process is called premature aging. Premature aging is usually considered unavoidable, since it occurs gradually over many years, alongside many years of sun exposure. But really, up to 90 percent of a person's visible skin changes usually attributed to aging are actually caused by the sun. Some of the effects of premature aging are fine lines, wrinkles, and age spots. But skin neglect and damage can show up in many ways, such as pigmented skin areas, lesions, uneven skin coloring, discolorations, hyperpigmentation, and veins.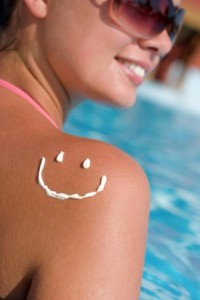 Because of our standard of beauty, and because smoother and cleaner looking skin is highly desirable, people suffering from skin damage wish to combat the visible consequences of over-exposure to the sun. Many treatments have become available for correctional purposes, specifically the use of laser treatments. Using pulses of laser light to penetrate the skin to the right depth with the right level of heat, deep wrinkle laser treatments are used to diminish fine lines and wrinkles. Another laser treatment, a skin tightening procedure, can be used to reduce the appearance of facial veins, age spots, leg veins, and pigmented skin areas. One more laser procedure includes a photofacial treatment which targets pigmentation issues and age spots and uses light energies to be absorbed by pigmentation and fade uneven skin tones.
Another method of treatment is called facial aesthetics. A chemical skin peel is one example of this. This treatment generates healthier and younger looking skin by permitting more blood flow and nutrients to change the skin. This leads to collagen production which can correct certain skin conditions cause by aging or UV exposure. Another example of facial aesthetics is Botox injections; one of the most commonly used non-surgical procedures. This treatment helps to hide wrinkles and aims to create a subtle yet pleasing result, so that your treatments do not come across as unnatural or too drastic.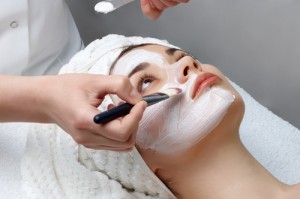 Fortunately, there are procedures available today that can help hide the skin-damaging effects of over-exposure to UV rays, which seems to come naturally with age. These treatments, whether laser or non-laser, are effective at hiding skin discoloration and imperfections.
_________________________________________________
HEALTH & NUTRITION NEWS
New Study Shows Nutritional Supplement Designed for Astronauts Strong in Fighting Effects of Radiation.
May 25, 2011
University of Pittsburgh animal study published in the Radiation Research Journal showed diet of nutritional supplement developed for Astronauts strong against effects of radiation exposure.
A study commissioned by NASA and the Johnson Space Center (JSC) evidencing the benefits of nutritional supplementation under the harshest of environmental oxidative stress factors, radiation, will be published in the June edition of the Radiation Research Journal. University of Pittsburgh labs conducted the study which showed that the antioxidative properties of nutritional supplement formulas co-developed by NASA/JSC and Houston-based AmeriSciences, LP, for the astronaut corps increased the lifespan and lessened the negative health effects in conditionally surviving animal subjects who were given a lethal dose of radiation.
Using a combination of a multivitamin and antioxidant formula (known as the AmeriSciences/NASA Premium Multivitamin and the AmeriSciences/NASA Fruit and Veggie Antioxidant Formulas), this study was designed to test the long-term survivability and effects in mice subjects given high doses of ionizing radiation (9500 mGy). The groups supplemented with a diet of the multivitamin and antioxidant formulas who survived for 30 days or longer after exposure had an 80% survival rate at 250 days compared to 30% for the control group as well as lessened late effects of the radiation exposure.
"The significance of the University of Pittsburgh outcomes cannot be understated," explains Carlos Montesinos, AmeriSciences Director of Scientific and Regulatory Affairs. "This study proves the effectiveness of a properly formulated antioxidant and multivitamin nutritional supplement in protecting the body from environmental conditions that contribute to negative health conditions and early aging," adds Montesinos, "everyone can benefit from the knowledge of results like this."
"Every day we are subject to environmental factors such as radiation that are considered oxidative stressors that can damage our cells," states Barry Cocheu, President/CEO of AmeriSciences. "This has been linked to such physical conditions as cataracts, cancer, cardiovascular disease and cognitive impairment – accordingly we all need to consider the possible benefits of adding the right nutritional supplement to our daily regimen."
The outcomes of this study are yet another success story in a line of nutritional technology advancements born from the research partnership between NASA/JSC and AmeriSciences started six years ago with the signing of a Space Act Agreement. In 2005, AmeriSciences and NASA/JSC entered into a Space Act Agreement to develop nutritional supplements for the astronauts to meet the needs of long-duration spaceflight as well as conditioning here on Earth. This joint research has now progressed to in-flight and clinical testing to determine the safety and effectiveness of the resulting formulations. In 2009, the resulting AmeriSciences/NASA formulas were used and tested aboard the Space Shuttle and International Space Station (STS-125 and STS-127) with positive results. Human subject clinical testing of the formulas is currently in progress and plans are underway for future long-term testing aboard the International Space Station.
"In my opinion, the strength of the antioxidant and multivitamin formulas in combination has been so significant in testing that it will change the way nutritional supplementation is viewed in both the scientific community and general population," adds Montesinos. "This is just the beginning of the antioxidant research AmeriSciences will be conducting to push the science forward in the coming years."
"Once again the space program and private enterprise have joined forces to create technology that can improve society," explains Cocheu. "I believe that this is the strongest proof yet that nutritional supplementation can truly help even in the most adverse of environmental conditions. . . in light of the current situation in Japan, this ground-breaking study can directly impact the health of millions of people and can impact us all considering our daily exposure to radiation and other oxidative stressors."
AmeriSciences currently markets civilian formulas based in part on this research and clinical data. They are marketed as AmeriSciences
AS10 Life
,
AS10
and
AS10 Fusion
.
For more information on this study, please visit
www.rrjournal.org
or
www.radiationstudy.com
. For information on AmeriSciences, please visit 
AmeriSciences
.com.
AmeriSciences, LP is a privately held company headquartered in Houston, Texas specializing in premium quality nutritional products. AmeriSciences' current domestic and international products are built on the philosophy of exceeding industry standards in quality, safety and effectiveness. AmeriSciences provides products in the areas of lifestyle nutrition, men's health, women's health, weight management and sports performance.
_________________________________________________
MYTHS ABOUT ACNE
June 18, 2011
We all know someone suffering from acne, the misconceptions about acne can exceed the possible treatments for them.  A few of the more common myths about acne are: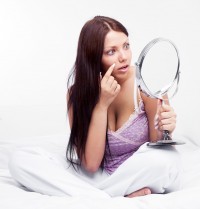 Acne is caused by diet or stress
Acne is caused by personal hygiene
Acne only affects younger people
Acne can be cured
Acne will go away over time
The truth is that acne is caused by excessive amounts of androgens (DHT/Testosterone) and affects 85% of all people between the ages of 12-24.  One out of eight women will experience acne up until the age of (44) and 3% of men will experience the same.  There are 28 million office visits alone each year associated with acne and many people suffering from acne do not realize the treatments available to them.  Over the counter medications may work temporarily for mild acne, they are not a very good solution for moderate or severe acne sufferers.
Statistics show patients suffering with acne typically withdraw socially from others, have limited employment and activity opportunities, tend to be overweight and do poorly in school.  Acne and post acne scarring has the highest rate of suicide of all the dermatological diseases combined.  95% of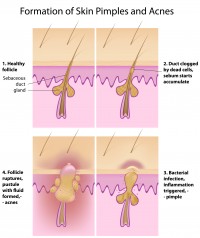 patients with acne lasting more than (2) years will have permanent scars and severe acne patients will develop scarring in less than (1) year.
However, medical improvements to the care for acne now allows for control throughout the years of suffering from acne.  New technologies and treatments for acne are now available that give quick and semi-permanent results without the expense or side effects associated prior with such treatments as Accutane™.  Photodynamic therapies, blue/red light therapies, cosmetic lasers, chemical peels, hormonal blockers, and oral contraceptives are just some of the newer more effective treatments for acne.  Traditional treatments still can give some relief to acne sufferers through the use of retinoids and antibiotics, but these newer treatments are specifically designed for long-term clearance of any degree of acne.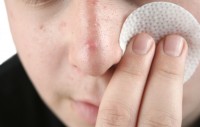 See for yourself what options are available to you, acne treatments will be individualized for each patient and the results are amazing.  The treatment of acne requires that many factors associated with inflammatory acne be addressed such as bacteria load, upper epidermal thinning, and shrinkage of the sebaceous glands.  Over the counter medications do not effectively address these issues associated with acne.  If you or someone you know are suffering needlessly with acne outbreaks or moderate/severe acne we can help.  Most acne is controlled in as little as (3) visits and while acne cannot be completely eliminated, we will be able to control your acne by as much as 90% of all active lesions.
_________________________________________________
HEALTH & NUTRITION NEWS
Cupuacu – the Fruit that is Changing the World
April 4, 2011
From the Amazon rainforest comes what could be considered the most nutritionally beneficial "Super Fruit" ever introduced to the marketplace. Haven't heard of Cupuacu before? Well, you are not alone. Outside of Brazil, the Cupuacu is a relatively unknown commodity, but AmeriSciences'
AS10
and
AS10 Fusion
are poised to change that.
"We are excited to help make the Cupaucu a household name like Acai has become in recent years," says AmeriSciences Chairman Lou Gallardo. "Our AS10 product line can be the delivery system for everyone to enjoy the benefits of this incredible 'SuperFruit'."
The Cupuacu, also spelled Copoasu and Copoasu, is a tropical rainforest tree related to the Cacao. Common throughout the Amazon basin, the tree produces a large melon-sized fruit with a hard outer shell and a white creamy pulp inside. As a relative of the Cacao, the Cupuacu doesn't disappoint with a pulp that bear's a tropical flavor with a hint of chocolate. In fact, the hard seeds contained within the milky white pulp can be used to produce chocolate products.
"The Cupuacu is an amazing renewable resource for the Brazilians," explains Lou Gallardo. "Since the Cupuacu occurs naturally throughout certain regions of Brazil and can be harvested in the down time between other fruit harvests, the local population has an incredible upside potential with the globalization of the knowledge of the benefits of this incredible Super Fruit."
The Cupuacu's nutritional value is found in its complex array of nutrients including nine flavanoids, polyphenols and theacrines. Unlike the Cacao which contains xanthines (caffeine, theobromine and theophylline), Cupuaco contains theacrines which produce similar energy enhancing effects without the negative effects of xanthines.
The amazing thing about the Capuacu is that it is already being hailed as the new #1 Super Fruit, yet it is so new outside of Brazil that science has yet to be able to identify all of its potential beneficial aspects. However, local Brazilians have known for many generations that the Cupuacu is beneficial to your health and have accordingly dubbed it "the pharmacy in a fruit."
Lou Gallardo adds, "it is time for the world to accept the fact that the most healthy fruits in the world do not grow in your backyards and cannot be found on the shelves of your grocery store." With
AS10
and
AS10 Fusion
featuring Cupuacu, the world can now get the benefits of the world's best Super Fruits in their home and start their journey towards a healthier tomorrow.
_________________________________________________
HEALTH & NUTRITION NEWS
Quality Determines Effectiveness of Supplements
March 7, 2011
It is important for the consumer to understand that not all dietary supplements are created equal.  The products you take off the shelves of retail chains may or may not contain what is on the label and may even be contaminated with unreasonable levels of lead and other heavy metals.  So why are these low quality products available?  Much of the blame falls on the current regulatory environment under which supplements exists and the enforcement agencies in charge.
In 2008, fourteen years after Congress passed the Dietary Supplement Health and Education Act which gave the U.S. Food and Drug Administration (FDA) authority over the dietary supplement industry, the FDA finally published a set of regulations aimed at providing guidelines for the manufacture of dietary supplements.  The Good Manufacturing Practices rule is a step in the right direction.  Unfortunately these guidelines are still only modeled after the existing food manufacturing guidelines.
Given the FDA's overstretched resources and thin budget, its priority is unlikely to shift from drug manufacturing enforcement to dietary supplement manufacturing enforcement.  In fact, a recent government report title FDA Science and Mission at Risk concluded that the "FDA cannot fulfill its mission because its scientific workforce does not have sufficient capacity and capability."
Since its inception, AmeriSciences' goal has been to provide only the highest quality supplements and products.  Considering the regulatory ambiguities described above, the company voluntarily patterned itself after the pharmaceutical model of manufacturing and quality control.  Good Manufacturing Practices for the drug industry have been established and enforced for decades, making the over-the-counter (OTC) pharmaceutical products such as aspirin highly reliable and bringing a sense of consumer confidence that is unsurpassed in other segments of the market.
These pharmaceutical manufacturing standards represent but only one of the several components that make up AmeriSciences' Total Quality System for its nutritional supplements.  From its Vendor Qualification Program and Assay Verification Program to its Banned Substance Testing Program, consumers can rest assured that AmeriSciences takes pride in its unsurpassed standard, setting it well above industry expectations relating to safety and effectiveness – now and for many years to come.
_________________________________________________
HEALTH & NUTRITION NEWS
The Science behind Healthy Living
February 7, 2011
Thanks to extensive media coverage, it is generally understood that a healthy lifestyle requires proper nutrition and regular exercise.  These variables may seem simplistic when the subject of healthy living is considered as an overall concept, but there is a considerable amount of science in human physiology.  Howe we move, what we put into our bodies and how we react to our environment greatly impacts our overall health.
Proper nutrition is an essential component to achieving a healthy lifestyle.  Eating a variety of foods from each of the good groups on a daily basis can potentially provide the body with the nutrients necessary for normal function.  Dietary guidelines developed by the Department of Health and Human Services and the U.S. Department of Agriculture suggest consuming plenty of fruits, grains and vegetables.  Meats and dairy products in moderation can also be part of a nutritious diet.
To work efficiently and stay healthy, there are 13 vitamins that the human body needs: A, D, E, K, C, and eight varieties of B vitamins.  Vitamins A, D, E and K are fat-soluble, which means they remain in the body until needed.  C and B vitamins are water-soluble and are used by the body immediately.  In addition, the body requires certain types of minerals, like calcium, in larger amounts, and others, like iron, in very small amounts each day.
The body can receive a majority of the vitamins and minerals it needs through a proper balance of fresh fruits, vegetables, grains, dairy products and meats, yet most people don't consume foods in well-balanced meals.  Busy lifestyles don't always allow people to pay specific attention to their nutritional needs.  Furthermore, there are certain vitamin and mineral requirements that cannot be reasonably attained through food alone.  For example, a person would have to consume a pound of liver or drink an entire pitcher of beer every day to get the daily recommended amount of chromium.  Products like AmeriSciences AS10 and AmeriSciences Men's and Women's Master-Multi have been developed to help your body receive the nutrients, phytonutrients and macronutrients it needs even when you are not able to consume the daily recommended amounts of fruits and vegetables each day.  For that reason, multivitamins and enhanced foods can be a great way to fulfill and regulate nutritional deficiencies that occur by consumption of basic foods alone.
According to the American Heart Association (AHA), all healthy adults ages 18 to 65 should be getting at least 30 minutes of exercise five days a week to maintain and improve cardiovascular health.  Research has shown that the positive effects of exercise can include: increased heart strength, simulated bone growth, weight/fat reduction, improved respiratory performance, increased red blood cell count and lower blood pressure.
Low impact exercise such as walking, bike riding and swimming can achieve the desired health goals without undue stress on your joints.  Higher impact exercised such as aerobics, jogging, most impact sports and weight lifting can be extremely beneficial but should be initiated into a daily/weekly regimen only after consultation with a physician due to their stress on the body.  With any new exercise regimen you should take a progressive approach – starting off with an easier level or shorter exercise duration and then working up to harder and longer exercise sessions.
Overall, there are countless benefits to making exercise and proper diet/supplementation a regular part of your life.  With the right components working together, you can help yourself achieve good health and feel your best each day.